The only thing that is constant in life is change. Over the past two years, we have had to adapt with the prevalence of COVID-19; the sort of life-changing occurrence that many never saw coming. It has affected every single person you and I may know; be it from the perspective of our livelihoods, individual health and that of our loved ones, our ability to travel freely, and even triggered some of our respective governments to go into a state of uncertainty. More and more experts are chiming in to say that we have to treat the COVID-19 pandemic as endemic. What does this actually mean?
In simplistic terms, endemic means that a disease has become so prevalent and widespread that we must learn to adapt and live with it. As scary as this sounds, this is not a new concept. In Malaysia, dengue has been endemic since its outbreak in the 1980s. Hand, foot and mouth disease (HFMD) has been endemic since it was first detected in Sarawak in 1997.
When a disease is classified as endemic, it necessitates a paradigm shift in the way we look at its containment. Instead of hardline measures, policies will start to shift towards ensuring that people can continue with their daily lives albeit with extra precautions. The goal will shift, and the focus becomes the prevention of serious cases but not eradication or the complete absence of infections.
The way policies are shaped around an endemic disease takes a different lens even from a data perspective. The Global COVID-19 Index (GCI), the award winning and World Health Organisation-endorsed data-driven pandemic response tracker by PEMANDU Associates has continued to evolve as we learnt more about COVID 19. When we first launched the GCI on 4 June 2020 globally, we assessed daily the severity and recovery progress of 184 countries. We analysed data from verified sources for all these countries pertaining to infection trends, testing intensities and healthcare infrastructure. This index was even adopted by the Governments of Indonesia, Thailand and the Bahamas as part of their border control planning. Subsequently, as vaccinations became more prevalent, we updated our methodology to ensure recovery reflected progress being made on vaccinations.
More recently, as the people in our home country of Malaysia became anxious as case numbers climbed and continued to remain high, the Government of Malaysia embarked on an aggressive vaccination strategy. Whilst this happened, we watched from our homes as global sporting events such as the Euro 2020 was played to packed audiences in Europe. Questions were asked – Has there been a miracle cure developed and rolled out in Europe? Had they completely eradicated COVID-19? The answers to these two questions are NO. The difference now is that many of these developed countries, have started to apply policies built around COVID-19 being endemic. This means: (1) having as many of its people fully vaccinated, (2) reducing the strain on the healthcare system, (3) restoring some form of normalcy so that businesses may resume operations.
It is on the backdrop of these observations that we started to pay special attention to Malaysia and developed the Malaysia State Recovery Index. With the highly commendable efforts that the Government of Malaysia has undertaken from an Open Data perspective, we designed a methodology that looks at individual states, and assesses on 3 main criteria:
Vaccinations as a factor of each State's Population
The number of serious cases leading to hospitalization as a factor of the State's Population
The available capacity of dedicated COVID-19 hospital beds and ICUs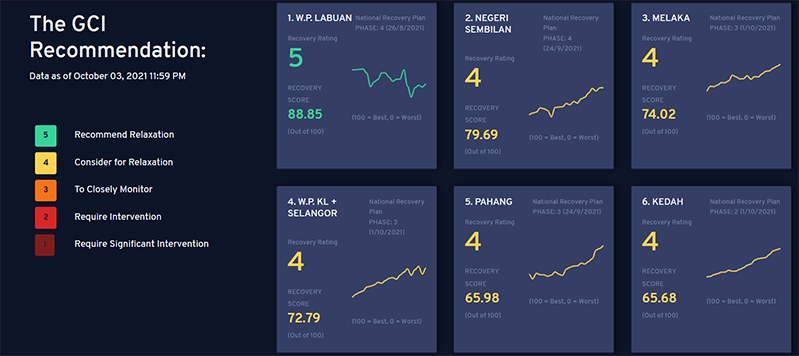 From these factors our index ranks each state on their respective readiness to relax restrictions. On the same philosophy of the original GCI, this is updated daily for all states. As of press time, we truly believe that Labuan, Negeri Sembilan, Klang Valley, Melaka, Kedah and Pahang should be considered for relaxations. Why? It is because these states have very high vaccination rates, low incidences of serious cases, and the strain on the healthcare systems are subsiding. It is worth noting that nowhere in this equation do we consider daily case numbers. This is an example of a mindset shift of treating COVID-19 as endemic.
However, this does not mean that things will go back to normal as they did before the pandemic began. It means we now need to learn to live with COVID19 and take the necessary precautions to avoid outbreaks, being vigilant in adhering to social distancing, mask-wearing etc. Similar to dengue and HFMD, we must take the necessary precautions to ensure hygiene is an utmost priority.
Change has also been a constant in the way many businesses operate. It has accelerated digitalization and has changed the way we conduct lessons, businesses and day-to-day interaction. I pen this to you now even whilst I work from home, a circumstance we as an organisation now fully embrace as the new normal.
I know there are a lot out there that are still anxious and cannot embrace the idea of living with COVID-19. But I choose to remain positive. Malaysia has done immensely well in being amongst the fastest to vaccinate its population in a short period of time. We are well on track to vaccinate over 90% of the adult population in Malaysia within the next 2 weeks. With that comes further relaxations once serious cases decrease and the burden on our healthcare system is reduced.
I sincerely believe it is time to embrace this change and learn to adapt. As the famous saying goes, "The key to change… is to let go of fear." After all, isn't what we all want that little bit of extra freedom, and a greater sense of normalcy? Perhaps now is the time for that mindset change to commence.