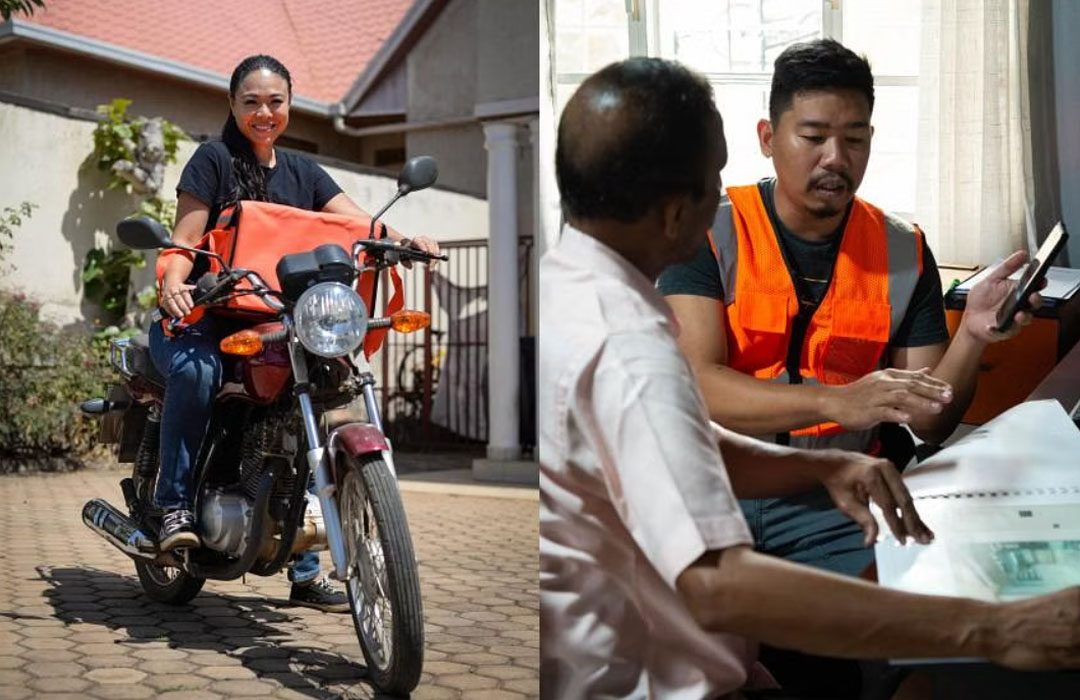 KIGALI – RwandAir pilot Suzanna Seng, 39, was driving from her home near central Kigali to the airport when she was greeted by the sight of rows of red motorcycle taxis, their riders waiting vainly along the road for passengers.
It was March 2020, the start of the Covid-19 pandemic, and Rwanda had gone into lockdown. With its borders open only for returning citizens, and people forbidden from moving around freely, businesses were gravely affected and the livelihoods of millions changed overnight. Motorcycle taxi drivers were not spared.
"You can see the despair in their eyes because they live from payday to payday. So, not knowing if they will have enough food and money for tomorrow is not a nice feeling to have," said Ms Seng.
This drove the Singaporean to establish her courier delivery business, QNE Delivery Services, three weeks into the lockdown.
Her team of five locals continues to work out of an annexe the size of a bedroom at the back of her house. There, they coordinate deliveries of purchases from food to dog beds, with drivers making 25 to 30 trips daily.
Ms Seng's side hustle is just one of the few South-east Asian business ventures in Rwanda.
Even though Rwanda attracts more foreign direct investments (FDIs) than similarly sized nations such as Burundi and Haiti, it has found it challenging to attract corporations looking to expand and aspiring entrepreneurs.
The Rwandan government promotes the country as a business-friendly destination, and the FDI of the small landlocked African nation of 14.1 million amounted to US$398.6 million (S$545.3 million) in 2022, according to data from the World Bank.
Its net inflow has been increasing since before the pandemic. In 2019, FDI stood at about US$263.2 million. By comparison, countries such as Burundi and Haiti reported FDI net inflows of US$12.9 million and US$39.3 million respectively in 2022.
Prime Minister Lee Hsien Loong drew attention to Rwanda during a working visit there in June 2022 when he called for Singaporeans to venture into new markets, and named Rwanda as one of the "bright spots".
He noted it has a young population with a median age of 22, compared with the median age of over 40 in Singapore. PM Lee said that like Singapore in the early days of its independence, Rwandans had the same desire to progress, succeed, and to make a better future for themselves, and a government that was keen to create opportunities for its people.
Singapore's bilateral trade with Rwanda stood at $4 million in 2022, making the East African nation its 37th largest trading partner in sub-Saharan Africa, said Enterprise Singapore.
Now, there are about 10 Singapore companies in Rwanda, primarily in the digital, urban solutions and agricultural sectors.
In the country, the number of South-east Asian enterprises has been growing slowly, said Mr Amit Jain, director of the NTU-SBF Centre for African Studies. However, the lack of knowledge about Rwanda and its relative inaccessibility hinder more businesses from exploring one of the least corrupt nations in Africa. "Currently there are only a handful of South-east Asian businesses there… I'd be surprised if there are more than 25 companies," he added.
In contrast, China has poured investments into Rwanda. According to the 2022 Annual Report by the Rwanda Development Board, China's investment in the country stood at US$182.4 million. The second-largest foreign investor was India, with US$151 million.
South-east Asian businesses in Africa tend to start out as opportunistic investments, said Professor Andrew Delios, 58, from the Department of Strategy and Policy at the National University of Singapore's Business School.
"We don't see any systematic movement of foreign direct investment from South-east Asia, but what we would see are opportunistic, periodic or isolated investments predicated upon some unique opportunities that exist."
Urban planning company Surbana Jurong has been responsible for city planning for Kigali, which was devastated by the 1994 genocide, for the past 15 years. Its Kigali City Master Plan, which aimed to transform the capital city into an attractive destination to live and work, won the Best Overseas Planning Project Award 2010 and Best Planning Project 2013 in the Singapore Institute of Planners Planning Awards. Surbana Jurong's work in Rwanda has led to other planning projects in Ghana, Tanzania, South Africa, Burundi and Kenya.
Following a 2018 review of the 2013 master plan, Surbana Jurong was engaged by the Rwanda Housing Authority to design plans for six secondary cities in Rwanda including Huye and Musanze.
Its Kigali Master Plan 2050 aims to support sustainable economic growth and community well-being.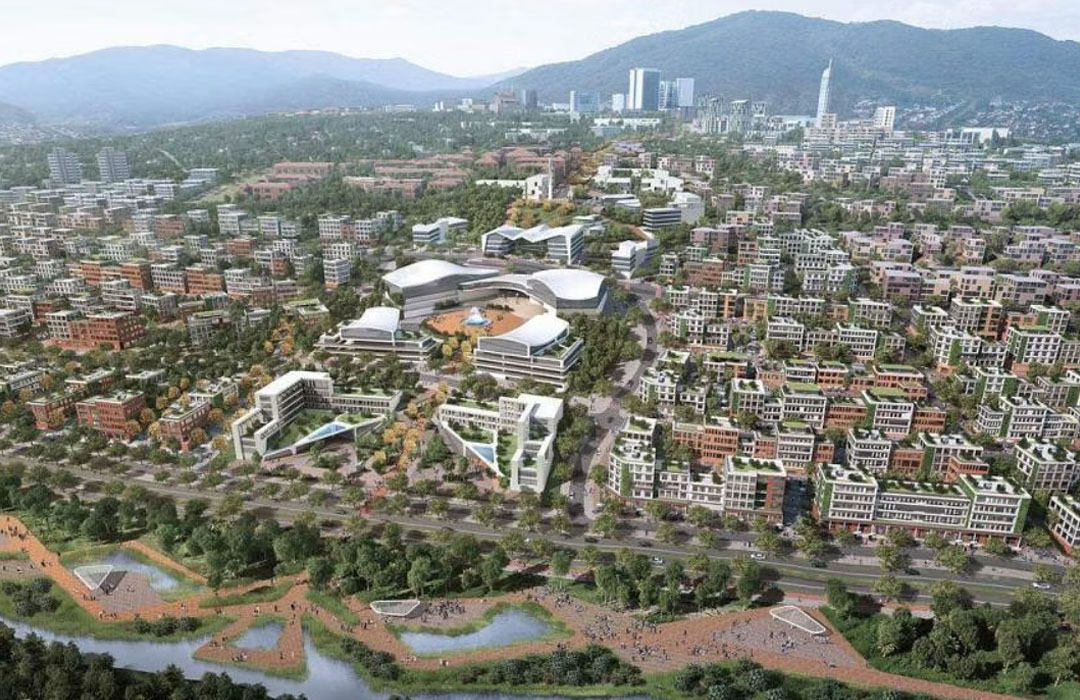 "Cities are dynamic and continuously evolving," deputy managing director of master planning at Surbana Jurong Anandan Karunakaran said.
"Regular review of masterplans allows planners to assess the current state of the city and make necessary adjustments to align with the changing urban dynamics."
Other Singapore companies in Rwanda include environmental consultancy GreenA Consultants, whose work includes providing sustainability consulting work such as green certification and environmental audits to private and public organisations, and e-solutions firm CrimsonLogic, which entered Rwanda in 2008 to improve the delivery of public and social services. It also helped develop the Visit Rwanda website, an online system for the booking of permits and services for tourist sites.
Modern chicken farm Poultry East Africa Limited (Peal) is another example of a Singaporean enterprise that flourished in an untapped market.
During a business trip in 2011, founder Lam Shumei, 38, discovered that chicken – a basic protein for many – was considered a luxury good in Rwanda. She set up Peal in a bid to provide affordable and accessible poultry to Rwandans.
Based in Bugesera, Peal operates its own hatchery, layer and broiler farms, in addition to its processing, distribution and retail outlets. It employs over 100 Rwandans and works with 230 small-scale contract farmers.
In 2021, Ms Lam hired fellow Singaporean Jonathan Wong, who had lived in Rwanda since 2013, as Peal's sales and business development manager.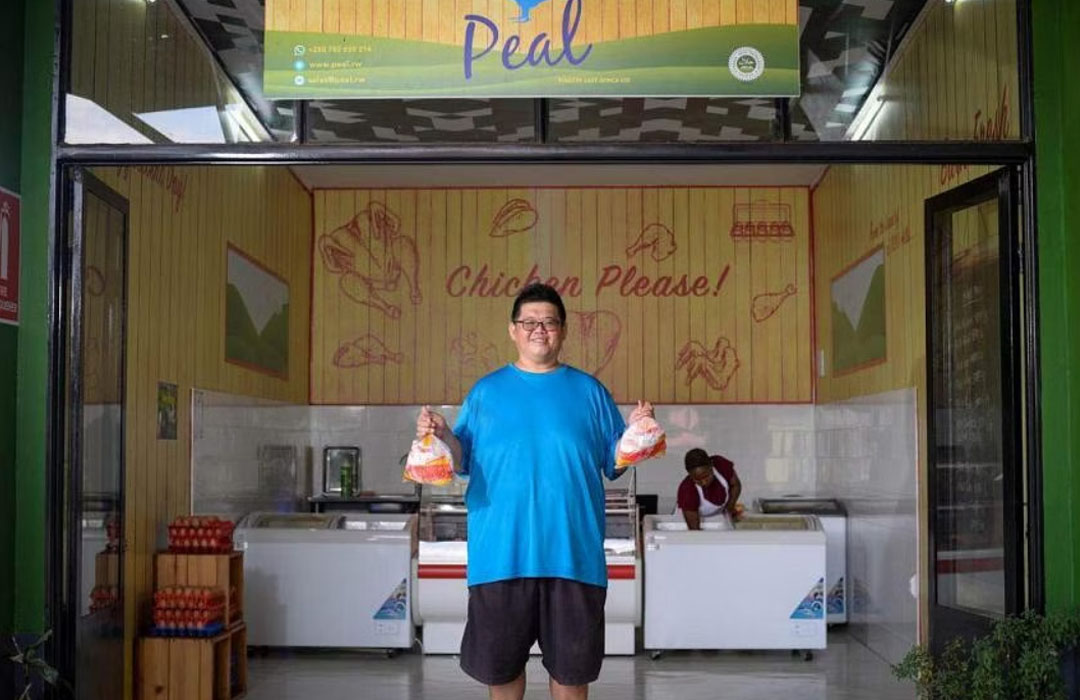 Mr Wong, 47, who had run a consumer electronics company and second-hand car business, had planned to return home when Covid-19 hit his businesses badly. Peal's offer had him reconsidering.
"It allowed me to stay here and it was a new market for me. So, when Shumei offered this to me, I thought, why not? It's something new, something else I can learn," he said.
Rwanda had not been Mr Wong's first pick for a venture, as he was considering setting up in Uganda.
But all it took was a road trip there for him to change his mind. "I thought Rwanda was more attractive, safer, and it is also the heart of Africa… It felt very familiar and very clean. It felt like home, put it this way," said Mr Wong, who is single, with no children.
Rwanda was also where Filipino entrepreneur Royce Roselle Sinoy, 35, found his footing after years of job-hopping across Africa. He arrived in 2016 when he was offered a job as the chief engineer and maintenance manager at a hotel.
He lost his job during the Covid-19 pandemic, and was doing odd jobs to support his wife and teenage daughter when a friend and fellow Filipino entrepreneur encouraged him to start his own construction and contracting works company. In 2022, Xtrim General Contractor and Services was born.
"'Why don't you start your own company? Why are you working for other people and making them richer?' He said that to me, and it got me thinking," Mr Sinoy said. By then, he had garnered a wealth of experience working in Rwanda and saw that the country was lacking in interior design and construction expertise.
Business is picking up, he said, and he has worked on projects for major hotel chains like Four Points by Sheraton and Marriott Hotels.
For Malaysia-based consulting firm Pemandu Associates, it was the Rwandan government that hired it to help with the country's development in 2022.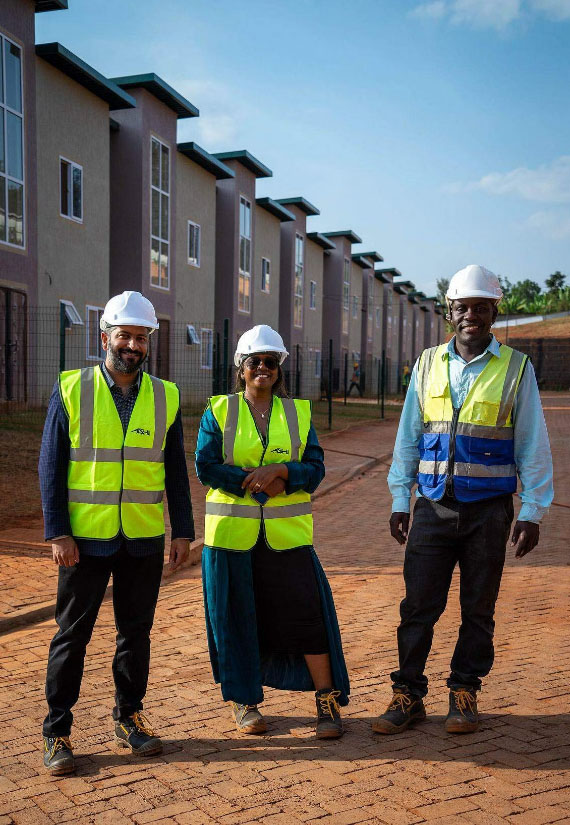 The team of 13 Malaysians oversees national projects from infrastructure to energy to pension funds. One of its key projects is the Bizwa Riverside Estate housing plan. The team also acts as the point of contact for Malaysian companies interested in tapping the Rwandan market. Stream lead manager Vinod Naidu said: "Rwanda is the best welcome to Africa. It's the best stepping stone because it has good infrastructure, clean roads and a good government."
That said, while over 30 Malaysian companies have contacted them, none has yet started a business here. "I think business is about risk and they understand that. But because it's a new continent that Malaysians are exploring, they are more cautious and would want to be more certain," said Mr Naidu, 33.
Mr Jain, 50, who is also a frontier market specialist, remains hopeful that Rwanda's business links with South-east Asia will continue to grow. "Only time can tell if this small momentum can be sustained. But if there is a huge success story of a South-east Asia business in Rwanda, that will definitely help."
The writer is a final-year communication studies student at the Nanyang Technological University's Wee Kim Wee School of Communication and Information. The report is produced as part of the school's Going Overseas for Advanced Reporting (Go-Far) programme.
Source: Singapore Straits Times
Read the full article here.